Dominic Thomas-James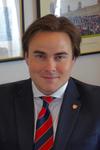 Dr Dominic Thomas-James became a Fellow of Yale University's Global Justice Program in 2020. He earned his Ph.D. from Queens' College, University of Cambridge where he also teaches on the Justice and Development program at the Department of Politics and International Studies. His doctoral research, supervised by Professor Barry Rider OBE, culminated in a thesis entitled 'Suspect Wealth – A Risk to Stability, Development and Sustainability: the case of Bermuda, the Turks and Caicos Islands, and Anguilla'.
Dr Thomas-James's academic interests sit within the field of economic crime, including money laundering, corruption, terrorism financing, fraud, corporate ownership and tax misconduct. He is particularly concerned with suspect wealth transiting into jurisdictions which operate sophisticated financial centres. His research examines domestic implementation of supranational and international economic crime laws and standards, and their viability. While specialising in British Overseas Territories and other international financial centres, his ongoing research also considers the position of larger, developing jurisdictions and how legal and institutional frameworks can be better strengthened in response to economic crime.
Dr Thomas-James is a Secretariat Member of the International Symposium on Economic Crime at Jesus College, Cambridge. He is regularly invited to speak at international conferences, and recently served as an expert speaker at regional consultative forums convened by the Inter-Governmental Action Group Against Money Laundering in West Africa. Dr Thomas-James teaches law and international development at various universities including the University of Cambridge, University of Lincoln and BPP University London. His written work has been published in various peer-reviewed journals.
Dr Thomas-James was called to the Bar of England and Wales by the Honourable Society of the Inner Temple and is an Associate at Goldsmith Chambers, London. He read law at King's College London, and earned an M.Phil. from the University of Cambridge's Institute of Criminology, Faculty of Law.